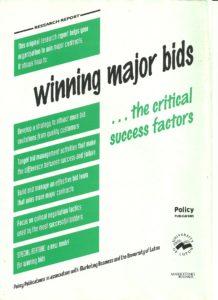 Winning Major Bids…the Critical Success Factors
Authors: Carol Kennedy and Matthew O'Connor
Learn from the experience of other companies how to become more successful at competitive bidding. The report provides a best practice blueprint for improving contract bidding performance. Based on research in 293 companies with a combined turnover of 65 billion, it shows what separates the most from the least successful companies when they bid for new contracts.
The report contains hard facts on 47 management activities across four key management areas positioning a company to attract bids, understanding and communicating with the customer, developing a winning bid team and negotiating to a successful close. It contains six full-length case studies, and is a must for companies that want to win more new business.
Table of Contents:
Executive summary
Winning major bids: a global perspective
How buyers make decisions
Key activities in successful bid management
Managing an effective bid team
Negotiating to a successful close
Developing a centre of excellence
A model for winning bids
Pro-forma documents to use in bids
Survey questionnaire and statistical summary
Further reading
Please note that at updated form of this report is available within the Winning New Business resource pack
Presentations and courses on the findings of the report are also available.
Winning Major Bids, the critical success factors (128 pages ; IBSN [978] 1 872980 26 0) is available price £60 plus p&p
Weight: 470g
For further information and to purchase contact Colin Coulson-Thomas